Take some of the sparkle that resides in your heart and join me as we Explore Your Imaginative Soul through art and creative expression. Here's an opportunity to free your creativity and imagination through writing, drawing, composing and creating. In four weeks, we will express our spirits and let loose with all the artistry and innovation that lies within us. Join me in this course as we use our intuition to free the imagination.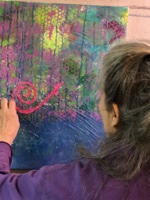 Do you have dreams of creative expression?

Do you want to overcome your inner critic and express your true creativity?
Do you want to experiment with new ways of approaching your art?


This workshop is for you when:
You have wanted to make art but aren't sure you know how
Your inner critic has kept you from expressing your true self
Your art is stuck and you want to put the fun back in it
And you want to find new ways to be creative
During this online workshop, we will integrate different artistic approaches and mediums. We will be inspired by the written word. We will work in ways that will open your creative playfulness with experimental, mixed media treats. I'll demonstrate a variety of techniques and share tips and insights as you create with inspiration from word and Imagery. You can experiment with new tools, supplies and techniques to use them
We will explore free writing as inspiration for intuitive painting, drawing with expressive freedom, shake the intrusion of the inner critic in our lives. Using acrylic primarily, adding any of your own art-making tools, we will conquer the blank page!